Brett Gallagher
July 5 2011 10:37:45 AM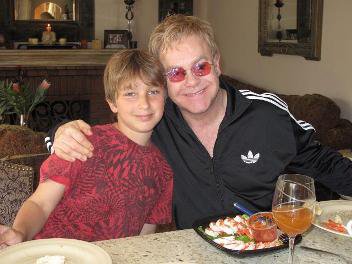 An event that may have gone largely unnoticed by the average person, but was widely lamented in the music industry, was the sudden, tragic passing of keyboardist & arranger, Guy Babylon, aged 52, on September 2, 2009.
Guy Babylon, who was originally from Carroll County in Maryland and attended Francis Scott Key High School, was probably best known for his years of collaboration with Elton John, serving as both the keyboardist in his band (since 1988) and as an arranger on much of Elton's music and Broadway musical productions, such as Aida, Billy Elliott, and Lestat (a musical production based on Anne Rice's The Vampire Chronicles). For the former, Babylon was awarded with a Grammy for his contributions in 2001. He was also a founding member of the band, Warpipes, in 1990, a collaborative project with Davey Johnstone, lead guitarist of the Elton John Band.
According to a statement released by Elton John, "He [Guy Babylon] was one of the most brilliant musicians I ever knew, a true genius, a gentle angel and I loved him so much."
Guy Babylon is survived by his wife of 24 years, Kathy, as well as two sons and a step-daughter. It is his youngest son, Ben Babylon, 12, who has begun to follow in his father's footsteps as a musician, and at such a young age, already displays much of his father's musical prowess on the keyboards.
As a tribute to his father, Ben penned the song "Goodbye Superman" (which is currently available on iTunes), and has performed it live at a number of venues, including the House of Blues, and will also be performing it at a tribute to Elton John's music to be held by Rock Nation, where Ben will be joined on-stage by the members of the Elton John Band on September 26, 2010, in Agoura Hills, California.
The orchestral version of "Goodbye Superman" opens with ethereal, haunting chords reminiscent of Elton John's classic "Funeral for a Friend", before being joined by Ben Babylon's technically flawless and emotive piano playing. Having grown up around Elton's music, a similar style can be heard in this song. The lyrics themselves " sung passionately by a pure voice, as yet untouched by the throws of puberty " echo both the pain caused by the sudden loss of his father, but also of the deep love shared between father and son, reflecting a maturity that belies Ben's tender age. "Bubble gum pop-rock" it is not; but rather, it shows a unique and tender soulfulness.
With the popularity of young musical acts like the Jonas Brothers, Miley Cyrus, Justin Bieber and Greyson Chance over the past several years, Ben Babylon certainly has the potential to join the ranks of an already accomplished group of teen stars, and by utilizing digital and social media tools like YouTube, Twitter and Facebook, which were the driving forces behind the discovery of Bieber and Chance, he is already gaining publicity and momentum in his fledgling musical career. And, it doesn't hurt to have the support of such an amazing musical legend as Elton John, who has proclaimed, "You better watch out for this kid, He can really play!"
To anyone who who happens to check out this unique, young talent, it will be clear that Ben Babylon has an exciting, inspiring future ahead of him, one that his father would certainly be quite proud of.
You can read more about Ben Babylon at www.benbabylonmusic.com, or check him out on YouTube, Facebook and Twitter!
UPDATE (July 2011)--Ben Babylon is currently in the studio working on his debut album, with me mbers of the Elton John B and. Click here to check out a preview of one of his brand new songs!
Written by David Evseeff
Links:
YouTube: http://www.youtube.com/user/gkjmb
Facebook: http://www.facebook.com/pag es/Ben-Babylon-Music/382635491755
Twitter: http://twitter.com/BenBabylonMusic
Rock Nation: http://www.rocknationschool.com/
==================================================================================
About STI, Inc.
STI has been a leading provider in the patent & IP translation industry for more than 30 years, helping numerous government and private sector clients to meet their translation, localization, and interpretation needs. STI integrates the best in human and technological resources to help our clients break down language barriers and face the demands of increasingly rapid globalization. With an effective, personalized, and proven system of project management, there is no project too big or too small.
STI is a Corporate Member of the American Translators Association (ATA) and a Charter Member of the Association of Language Companies (ALC), the only trade association in the U.S. devoted to the language industry. STI's President, Marla Schulman, is the Immediate Past President of the AlC.
STI is located in the Washington D.C metro area. To learn more, please contact STI at www.schreibernet.com, or call (301) 424-7737.